my birthday.
Okay… so my birthday was about 11 days ago and this post is a wee bit late, but I still think it'd be nice to show all my internet friends some of the fun things I got for my birthday! One of the best presents, in fact, came from my internet friends, the Sunshine Girls! A while ago Ellie started making these cute signature tags for each girl in the group, using the art of Suzanne Woolcott. Here's mine: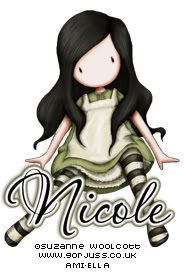 Well, for my birthday the girls went to Suzanne's Etsy shop and bought me a little something:
What an amazing present! My dollie now sits beside me all day when I'm at the computer so that I can look at her and gaze upon her beauty. Ah! I love it.
Other amazing presents included a shopping trip to my favorite stores (like Old Navy and B. Moss) and a trip to the Clinique counter for a long overdue beautification splurge:
I also finally got my hands on the perfume version of my favorite Bath & Body Works scent, Sensual Amber. Woo-hoo! I feel so pretty now.
And can you believe that Travis had more surprises for me? He purchased me something (calling it a "business investment") that I've been wanting since Christmas:
It's a "Bamboo Fun" Wacom tablet. So, now I can doodle in Photoshop! So cool! I'm still getting used to it but it's great fun.
Well, it's Mother's Day weekend and now that Joshua is awake, we are off to a flower show. I'm excited! Hope to find some nice things to plant outside. I just love Spring…
Happy Mother's Day to everyone!